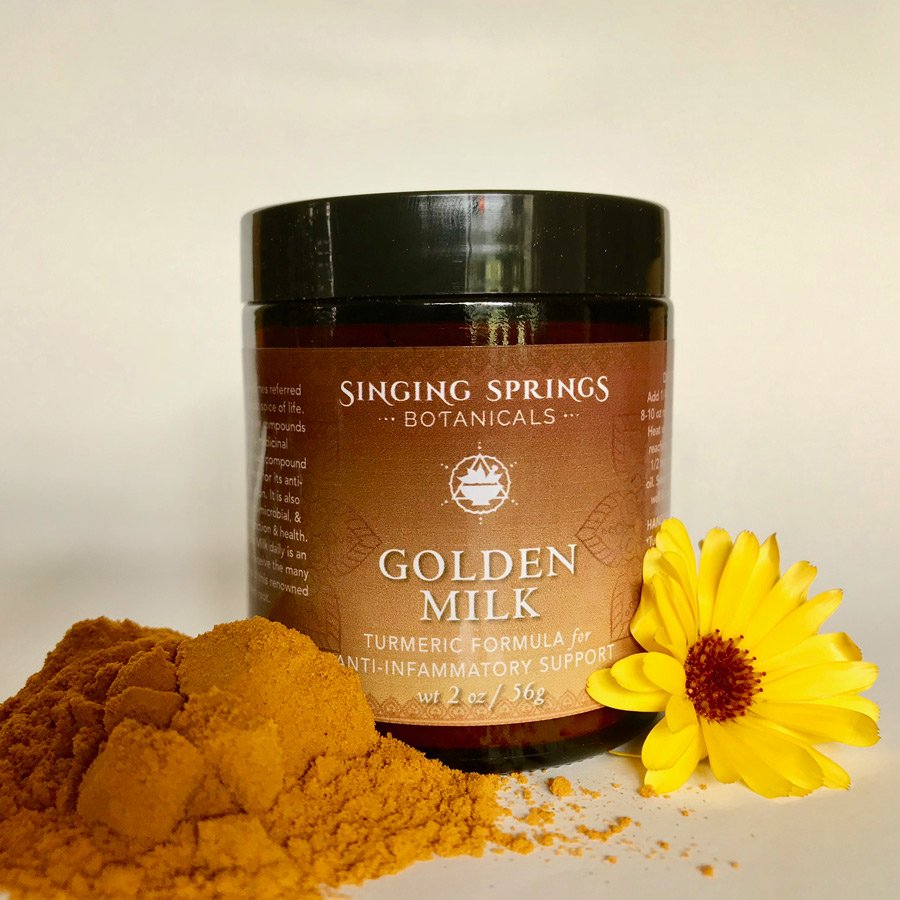 GOLDEN MILK
Description
Drinking Golden Milk daily is an enjoyable way to assure you are getting all the health benefits the incredible Turmeric root has to offer. Turmeric contains bioactive compounds with powerful medicinal properties such as curcumin. This compound is one of the planets most famous anti-inflammatory agents. Additionally, it is a strong antioxidant making it beneficial to help prevent cancer. Furthermore, curcumin mediates degenerative processes in the brain which may lead to improvement in ailments such as Alzheimers. This formula includes black pepper to potentize the curcumin and enhance its assimilation by the body. It also has two wonderful adaptogenic herbs as well as delicious spices including Cinnamon, Cardamom and Nutmeg. It comes ready to mix right into your favorite milk.*
To use it you simply add ¼ – ½  tsp. powder and ½ tsp. coconut oil or ghee to 8-10 oz. milk or milk substitute. Heat on stove until almost reaching a boil. Remove, and pour into a favorite mug. Sweeten with cane sugar, agave or maple syrup if desired. One 2 oz. jar contains 100 servings at ¼  tsp or 50 at ½  tsp.
Handcrafted with: *Turmeric (Curcuma longa), *Ashwagandha (Withania somnifera), *Shatavari (Asparagus racemosus), *Cardamom (Elettaria cardamomum), *Ginger (Zingiber officinalis), *Cinnamon (Cinnamomum cassia), *Black Pepper (Piper nigrum) and *Nutmeg (Myristica fragrans)(*Certified Organic)
*The above statements have not been evaluated by the Food and Drug Administration. These products are not intended to diagnose, treat, cure or prevent any disease.