Ayurvedic Diet & Lifestyle Consultations
It fills me with purpose to share the wisdom of Ayurveda and Herbal Medicine to support amazing people like you. My greatest desire is to see all of my clients thrive and enjoy life to its fullest. Whether you have an acute illness, a chronic illness, or simply want to see what potential there is to increase your vitality and energy in a general way, a diet and lifestyle consultation is a great place to start. You will find guidance, in an intimate setting, where unique and insightful information is provided, to address your specific needs. Individuals are supported in an honest and respectful way, with positive and focused energy and intention, so they feel inspired to take their healing into their own hands. Greater awareness, harmony and improved overall health are the aim.
Initial Consultations
These private, holistic consultations are typically an hour and a half, allowing sufficient time for gathering a comprehensive health history and time for one on one consulting. They include an Ayurvedic assessment, to determine your unique constitution or mind/body type (prakruti), and your current state, including any imbalances causing health concerns (vikruti). Health concerns will be addressed, no matter how small or large and we'll dialogue about your personal goals in regard to wellbeing.
The Ayurvedic recommendations you receive will range from strategies for easing symptoms in the short-term, to ones that nourish and rejuvenate health over a longer period. There is great focus on diet, including diet specific to constitution, diet specific to any disorder and on optimizing digestion and increasing nutrition. In addition to diet, lifestyle practices and self-care are used to keep the doshas in balance and to manage stress.
Finally, herbal formulas are often recommended.
Herbs, when matched appropriately, are powerful allies. They act as catalysts to aid the physiology and/or the mind. They may be used for a number of things including; to improve digestion, to facilitate cleansing, to balance doshas, to improve the health of specific organs or tissues, to increase immunity, reduce stress, improve the quality of sleep and of course, to increase overall vitality depending on your unique needs.
Cost: $108 (price does not include herbs)
If the above rate is truly not feasible, please do not hesitate to contact me. I will do whatever possible to work out an arrangement that suits us both.
While a comprehensive assessment will be made during our time together, the nature of the visit is purely educational. I do not diagnose or prescribe and these consultations do not include medical diagnosis or medical treatment and are not a substitute for care from a medical doctor.
Follow-up Consultations
These visits are crucial check-ins. They can be quite quick, typically a half-hour, but may be up to ninety minutes, when geared as personal tutoring sessions. During a follow-up we will assess your progress, reassess your current condition, open dialogue about what is working and what is not, and clarify any questions you may have. We can then make adjustments to your protocol and herbal formulas if necessary.
Then, we focus on deepening your understanding of health topics related to you. We go into more detail about helpful herbs and/or unique Ayurvedic therapies such as Marma Chikitsa (working with the body's vital energy points) or Pranayama. We can focus on creating a personalized dinacharya (a daily routine that brings balance), or on creating a therapeutic yoga regimen. Often, a meal plan is created, or meal ideas are shared, both of which would specifically address any current imbalance.
For acute conditions follow-ups are typically scheduled at one to two weeks after the initial and otherwise from two to six weeks after. They are packed with helpful information, centered around your education, with focus on your personal ability to create wellness, and they are fun!
All information you provide during these consultations, as well as any correspondence we have through email or over the phone, and subsequent information accumulated in your health files will be kept absolutely confidential!
Cost: $45 an hour (price does not include herbs)
Personalized Ayurvedic/Herbal Tutoring Sessions
In these sessions we focus on the many ways that you can incorporate herbs or specific Ayurvedic practices into your everyday life. These sessions are a joy as we explore herbs that one can grow themselves to support their wellbeing, herbs that can be harvested locally and made into medicines or foods. We may go into herbs to balance doshas or to address specific health challenges, the topics are vast and can cover whatever you would like to learn about herbal medicine or Ayurveda.
Cost: $45 an hour.
If interested in this without doing a full consultation, you will be requested to answer a health questionnaire prior to the appointment.

Ayurvedic Menu Planning & Kitchen Medicine
If your looking for guidance on creating specific menus and meals that are highly nutritious and Ayurvedically balancing for you, this is a great extension to a consultation (it is available without doing a consultation as well). Julie will help you develop a menu of basic healthy meals that are specifically tailored to your constitution and/or imbalance/health issue. This "kitchen medicine" tutorial will assist you to utilize food, spices, herbs and kriyas (preparation techniques) to integrate the nutritional and herbal advice from a consultation. It defiantly promotes greater success in implementing Ayurveda into your diet with ease and turns each meal into medicine. You'll come away with a course of action, menu plans, recipes and clear advice. If your interest is how to cook for a family with different constitutions, we can go into that.
Cost: $108 for a one & a half hour session.
If interested in this without doing a full consultation, you will be requested to answer a health questionnaire prior to the appointment.
Consultations are offered in person in Ouray, Telluride & Ridgway, or by Face Time for those out of town. Julie meets the currently established NAMA criteria for education and experience as an Ayurvedic practitioner. For more information on Julie see the About The Founder page.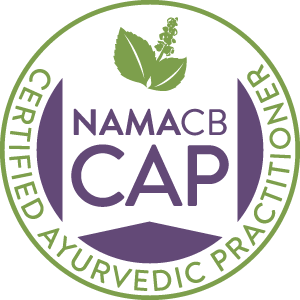 Schedule an Ayurvedic Consultation Today!