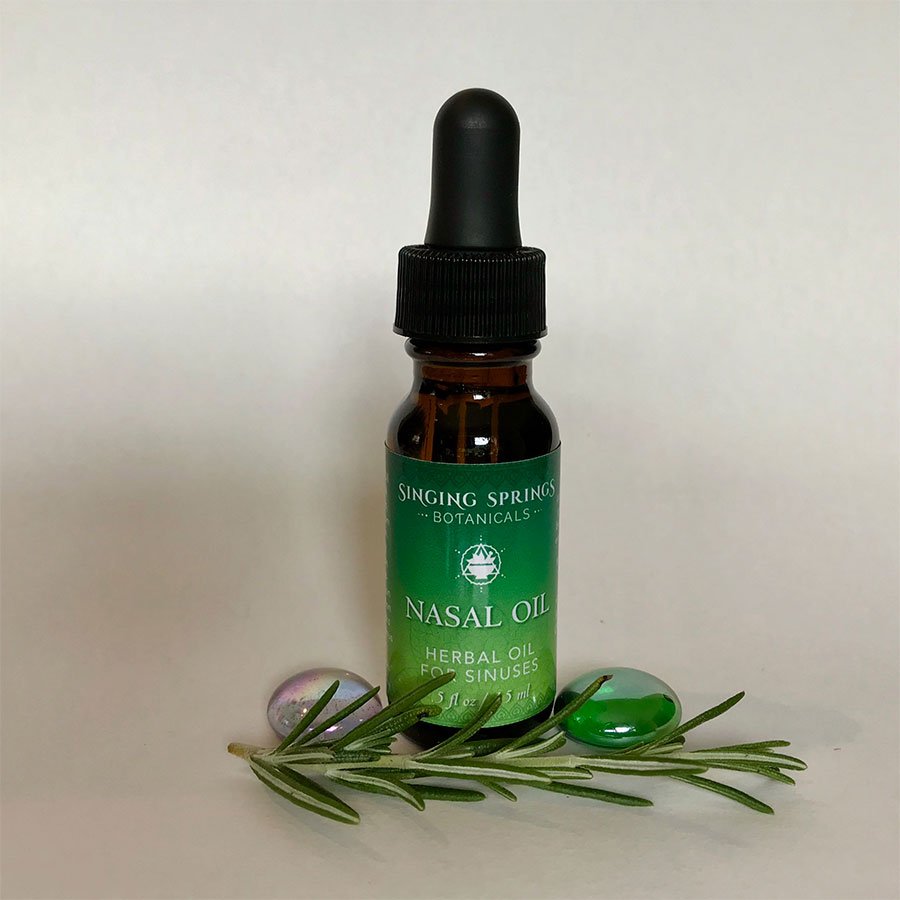 NASAL OIL
Description
Nasal Oil, known as Nasya in Ayurveda lubricates the nasal passages and the sinuses protecting them from dryness, cracking and irritation due to dry air, dust and other pollutants. Keeping these passages moist reduces the occurrence of nose bleeds and soothes inflammation and irritation. When nasal passages are irritated, the sensitive tissues become more susceptible to infection. When the mucus membranes are kept moist and hydrated, that line of defense is strong and infections are reduced. If infection happens, this oil works wonders to relieve sinus pain and congestion. The essential oils within such as; Eucalyptus, Tulsi, Rosemary and Ravensara work both as expectorants, helping to clear sinus congestion and as anti-bacterial agents. These shorten the duration of infections by inhibiting bacteria and viruses upon contact. Chamomile is in this formula for its anti-inflammatory property. Exceptionally helpful to soothe inflamed sinus tissues.*
To use:  Tip your head back as far as possible or lay on the edge of a bed or sofa. Drop 2 drops of oil into each nostril and sniff. If you want you may increase to 3-5 drops if comfortable. Alternately, drop 1-3 drops on your pinky finger and apply in one nostril, them repeat for the other. Always do both sides. The preferred time to oil the sinuses is on an empty stomach early in the morning when brushing the teeth and scraping the tongue. It can be uncomfortable to do nasya before bed as it can drain down the throat when you lay down.
Note: It is normal to taste the oil in the back of the mouth or to have some oil drip out of your nose for a minute or two after it is applied.
Handcrafted with:  *Sesame oil (Sesamomum indicum), *Almond oil (Prunus dulcis) and essential oils of *Eucalyptus (Eucalyptus radiata), *Tulsi (Ocimum Sanctum), *Rosemary (Rosmarinus officinalis), *Ravensara (Agathophyllum aromatica), *Roman Chamomile (Anthemis nobilis) and Jatamansi (Nardostachys jatamansi) (*Certified Organic)
*The above statements have not been evaluated by the Food and Drug Administration. These products are not intended to diagnose, treat, cure or prevent any disease.